Design and Manufacture of Clocks, Watches and Scientific Instruments
Manufacturer and designer of clocks, watches and scientific instruments. Individual time pieces of the highest quality completely designed and constructed, from Marine Chronometers to Longcase Regulators, and from Sun dials to Electronic Master clocks.
Each clock, watch or Horological instrument that is designed and manufactured, contains something of a new design or concept, and not just a reproduction or a copy of a timepiece that has gone before. However, traditional standards of the highest quality and finishing are still maintained, with the movements retaining the traditional crisp sharp edges and burnished flash on all appropriate components.
Obviously longevity of the time piece is also a consideration, and with careful observations of previous craftmen's techniques and materials, it is possible for a mechanical timepieces to have a running period of approx 300 years. (Research undertaken with detailed examination of Breguet's, and similar, work, methods and materials). For instance all pinions are properly hardened, tempered and correctly polished, appropriate brass correctly stressed, arbours and pivots correctly shaped, hardened and polished, and running in properly shaped and aligned, specially manufactured jewel settings.
The Armillary sphere Sundials are made from stainless steel and brass, and non mechanical time instruments are constructed with the highest quality of materials and components.
To date over 50 individual timepieces have been designed and manufactured, with the Skeleton Clock as No 1, later, the year of completion was added after the sequence number.
With each timepiece or instrument produced, the customer receives the complete original design drawings, sketches, mathematical proof of calculations, and full servicing data. This is normally presented as a hard bound book.
Silver-cased Carriage Clock, No 2(4)93 (completed 1994).
The clock is 190mm high, 127mm wide and 117mm in depth, has a 8 day going period, mainspring to fusee, with the going train having maintaining power and all pinions of 12 teeth.
All wheels are secured to the arbour wheel mounting collets by three screws. The fully jewelled Remontoir platform escapement has a jewelled club tooth lever escapement, Nivarox overcoil balance spring and `Daniels` style balance.
Strikes and repeats the hours and half hour on to a bell, and has a new design of instantaneous flirt action perpetual calendar. The silver gilt engine turned dial shows hours, minutes, seconds, power reserve, day of the month, aperture for the month of the year, and an aperture showing the leap year.
The Rhodium plated silver case, (rhodium prevents silver from tarnishing), is approximately 58 ozs, and constructed and jointed using cyanoacrylate adhesive and rivets, and was therefore one of the first pieces excepted for assay by the Birmingham Assay Office as a whole item. (see Horological Journal Sept 1993, Vol 136 No 3 page 79 to 83).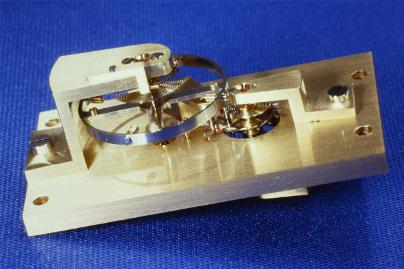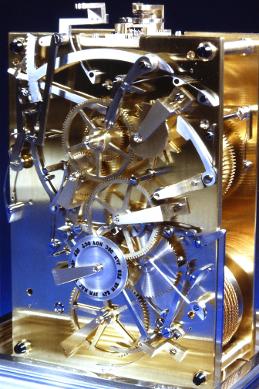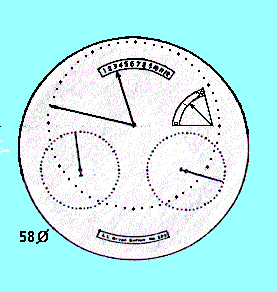 Present Project: Description of a 4 Minute Tourbillon
18,000 train, a limited addition of 5, 18ct Gold cased Pocket Watches, with off centre minute dial, retrograde hour dial, seconds dial, split-seconds dial (stop start), and power reserve dial segment.
The movement is fully jewelled and has a 36 hour running period, and contains two mainspring going barrels that supply power to a 4 Minute Tourbillon, (driven at the circumference of its carriage). The watch has, a spring detent escapement, a Daniel's design balance and a Hamilton Model 22 (Elinvar Extra Type) balance spring.
NOTE, The Hamilton Model 22 Deck watch/Chronometer balance spring, (Elinvar Extra), had a negligible temperature expansion rate, and was, and probably still is, the last precision balance spring metal ever produced for portable mechanical timekeepers.
GENTS 18ct GOLD WRIST WATCH. Special commission.
One piece case with the hand set button embedded into the case, Whitened silver simple dial.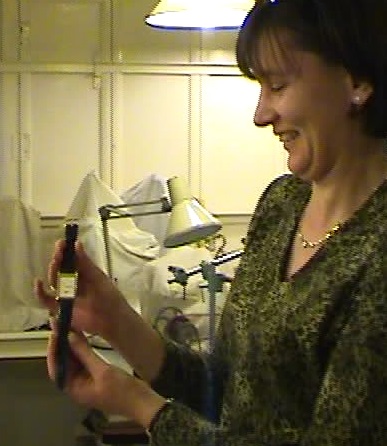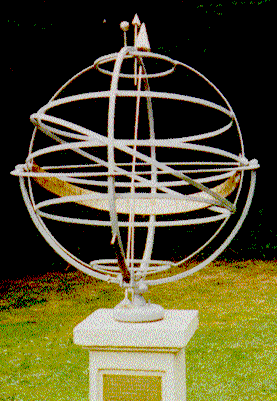 Armillary Sun Dial and Sphere. No 994C
A Limited edition of 5 of this particular design of Sun Dial, with each one being constructed for the owner's position of his residence on this Planet (Latitude and Longitude). Each Armillary sphere Sun Dial is 700mm in diameter.
Each Instrument is constructed of steel, stainless steel and brass, with all moving parts etc, constructed from stainless steel.
The first two designs were of a fixed type, and the second two were fixed in a cradle that can be set to match each degree of the Sun's angle of altitude as it changes depending upon the time of year.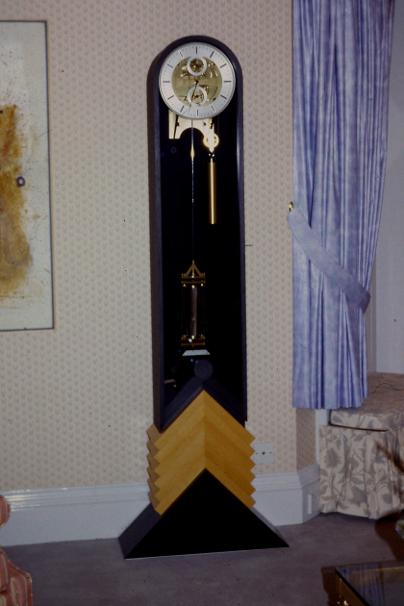 A TWO MONTH WEIGHT DRIVEN REGULATOR.
The front plate is skeletonised so all the internal mechanism is visible.
Maintaining power and deadbeat escapement. Fully jewelled pivots for the pallets, pallet arbour and rear escape pivot, all other pivots have co-axial stainless steel miniature races with dust cover caps.