Conservation / restoration and repair of clocks, watches and scientific instruments.
Work is generally conservation-based, with sympathetic restoration of surface finishes, and always kept minimal. Where necessary a no metal loss process is used. Conservation/restoration and repair work is to National Trust standards, as discussed with Mr J Betts.
Each repair is fully discussed with the customer. A Written Estimate with completion date, full repair and cleaning report is produced, and where appropriate, work and cost options are given. Strict confidentiality is always maintained.
All costs for each repair is on a time taken basis, and therefore relates to the amount of repairs or manufacturing required. Normally there is a minimum charge equivalent to One day cost. At present this is approx. £280.00.
On completion of the work the customer is given a full repair report. This describes all procedures undertaken, lists each individual repair, all chemicals used with times of immersion, and grades of oils and placement. The report also normally contains brief historical details on the timepiece or instrument, and gives train counts, overall sizes, a guide list of future maintenance periods, and a summary of the time-keeping or specification characteristics. A more detailed historical report on the manufacturer can be produced if requested.
Clocks, watches and instruments worked on include: Tompion, Knibb, Quare, Vullimay to Breguet, Motel etc, and Isaac Newton's Telescope to Hewlett Packard Atomic Clocks.
As we have full manufacturing capabilities, all repairs are achievable no matter what the piece may be. Even if you have a Smiths alarm clock that has great sentimental value, and you have accidentally run over it with your car, it can be re-built! Everything is repairable or can be re-manufactured in sympathy with the original craftsmanship.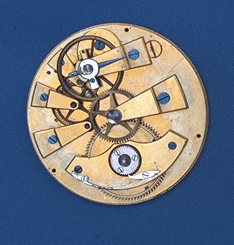 H. Motel, No 1428 (for restoration)

Silver engine turned dial, seconds dial, ruby cylinder escapement, 51mm diameter and 11mm thick.

Henri Motel was a pupil and successor of L.Berthoud and studied under Breguet, and became `Horloger de la Marine` in 1823.